Recipe: Delicious Cheesy Beef Broccoli and Rice
Cheesy Beef Broccoli and Rice. Cheesy Beef and Broccoli Rice Skillet - Beef and broccoli are a great combo, often paired together in casseroles and dishes like Asian beef and broccoli. This cheesy beef and broccoli rice brings the flavors together into an easy one pan stove top dinner recipe. Cheesy ground beef and rice casserole is filled with cheese, ground beef, carrots, broccoli and rice.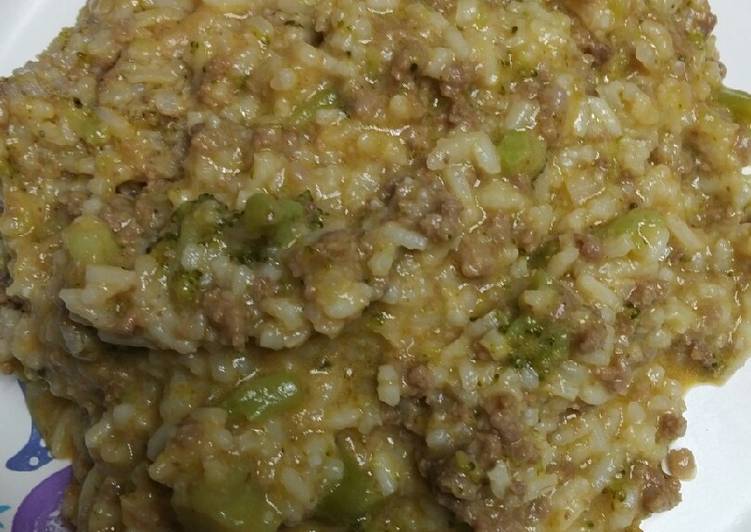 In a skillet, cook beef, onion and garlic over medium heat until the meat is no longer pink; drain. Stir in the rice, broccoli and cheddar cheese. Whisk together the stock, milk, flour and thyme and then add it to the pan (after letting the white wine cook out for about a minute). You can have Cheesy Beef Broccoli and Rice using 9 ingredients and 3 steps. Here is how you cook that.
Ingredients of Cheesy Beef Broccoli and Rice
It's 1-1/2 cup of rice.
It's 2 pounds of ground beef.
You need 3 cups of water.
You need 2-1/2 cup of double cheddar cheese sauce I used Ragu.
It's 1-1/2 teaspoon of kosher salt.
You need 1 teaspoon of granulated garlic powder.
You need 2 tablespoons of dehydrated onions.
It's 1 pound of broccoli chopped into bite sized pieces.
It's 1 cup of water.
This recipe can be made with Cream of Celery, Cream of Chicken, Cream of Broccoli, Cheddar Cheese, and Broccoli Cheese. If you prefer to make the soup from scratch, try my homemade Cream of Chicken Recipe!; Make-Ahead Beef and Rice Casserole. I made this with long grain white rice the other day because i didnt have the time to cook the brown rice. it was really good, and my husband suggested i make some changes to it the next time. chicken, instead of beef, add broccoli, and cheese. yummy either way. To make this cheesy broccoli rice recipe, first put your bag of frozen broccoli in the microwave and cook for three minutes.
Cheesy Beef Broccoli and Rice step by step
To a deep pan add the ground beef, 3 cups of water, and rice. Then season with the salt, garlic, and onions..
When the liquids are absorbed add the last cup of water. Stir well. Simmer 7 minutes. Now add the cheese sauce..
Stir well and cover for 15 minutes undisturbed off heat..
Meanwhile, cook your onion and garlic in the butter and oil until your onion is translucent. Salt and pepper and cook for a few more minutes. Pour in your milk and heavy cream - continuing to stir. In a Dutch oven, melt the butter over medium heat. Add the stock, milk, broccoli, and kosher salt and bring to a boil.