Easiest Way to Prepare Delicious Chenango Zucchini Bread
Chenango Zucchini Bread. Chenango Zucchini Bread guidance Grate zucchini, carefully squeeze out much of the liquid, and set aside. It will make two loaves, which is great, as you can freeze one loaf for later! Be sure to gently squeeze some of the liquid from the shredded zucchini so your bread will have an even texture.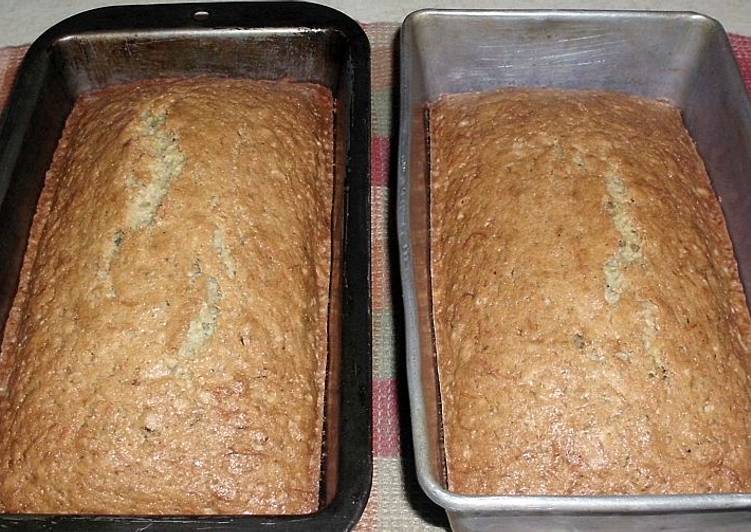 This recipe is very similar to a crustless quiche. It goes well with a simple green salad and/or biscuits. Great recipe for WWII Ration White Cake. You can cook Chenango Zucchini Bread using 10 ingredients and 6 steps. Here is how you cook that.
Ingredients of Chenango Zucchini Bread
It's 3 of eggs.
It's 1 cup of vegetable oil.
It's 2 cups of sugar.
Prepare 2 cups of grated zucchini.
Prepare 3 tsp. of vanilla extract.
You need 3 cups of flour.
You need 1 tsp. of salt.
It's 1 tsp. of baking soda.
Prepare 3 tsp. of cinnamon.
You need 1/2 tsp. of baking powder.
My grandmother was very creative and created this yummy, moist recipe during WWII when eggs, milk and butter weren't as readily available. Plus, she was cooking for eight children! Delicious Zucchini Recipes is one of favorite recipes in this website. Read, and Do it, practice to cooking Delicious Zucchini Recipes makes it perfect.
Chenango Zucchini Bread instructions
Grate zucchini, carefully squeeze out much of the liquid, and set aside..
Beat eggs and then add the next 4 ingredients..
Measure 3 cups of flour and add to zucchini mix one cup at a time. Then with the last cup of flour add the rest of the dry ingredients..
Mix well..
Pour into 2 greased loaf pans..
Bake at 350 degrees F for 50 - 60 minutes. Check doneness with a toothpick in the center of the loaves..
Spread the mixture over the cooled zucchini bars. The zucchini adds moisture to the recipe, enabling one to cut back on the fat without sacrificing flavor. With batches of zucchini bars now threatening to take over my. This is a classic zucchini bread that is incredibly quick and easy to make and turns out perfectly fluffy and moist. Zucchini, bread crumbs, ricotta, butter, and Parmesan create a juicy layer that makes you wish chicken always tasted this good.