Recipe: Tasty Vegan Christmas cake
Vegan Christmas cake. Vegan Christmas cake - a rich, moist and boozy vegan fruit cake that is perfect for the festive season. Eat right away or make in advance and feed regularly with rum or brandy. Fruit cake is a bit of a divisive one; I know that a lot of people aren't keen on it, but I absolutely love it and Christmas for me wouldn't be the same without a.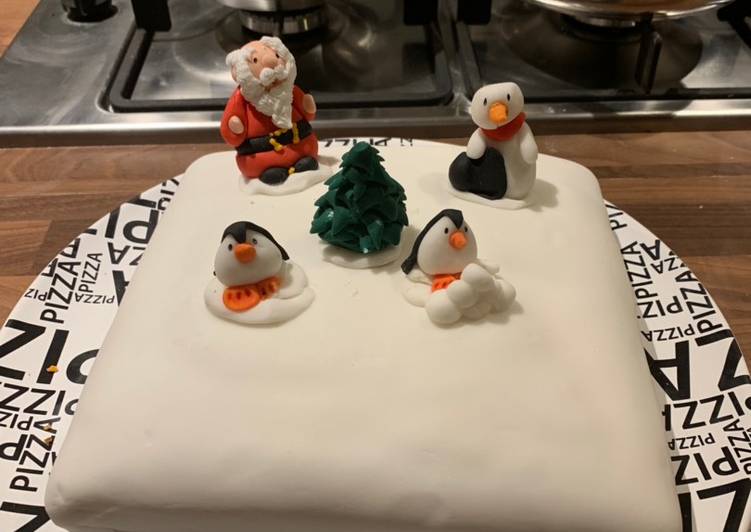 Well, it's pretty much the same as you'd make a non-vegan fruit cake. The only difference is no eggs and using plant milk. For this Christmas cake I've substituted the eggs with 'flax eggs'. You can cook Vegan Christmas cake using 6 ingredients and 4 steps. Here is how you achieve it.
Ingredients of Vegan Christmas cake
You need 250 g of self-raising flour.
You need 150 g of dairy free marg.
Prepare 150 g of brown sugar.
Prepare 2 tablespoons of egg replacement powder.
It's of Oat milk to loosen.
It's 1 teaspoon of vanilla essence.
This is just mixing ground flax seeds with a little cold water and allowing it to stand and thicken slightly. Is it easy to make a vegan Christmas cake? It was easier than I thought to make a vegan Christmas cake. Simply substituting the butter for dairy free spread and the eggs for flax eggs makes a perfect vegan Christmas cake that holds together and has all the flavours of a rich traditional Christmas cake.
Vegan Christmas cake instructions
Cream together the butter and sugar in a bowl..
Add the egg replacement and vanilla then sift in the flour..
Mix together and add in oat milk a little at a time until you get a runny but not watery consistency. Grease a tin and pour the mixture in, place in a preheated oven at 180 degrees for 30 minutes..
Decorate with royal icing and festive figures..
I thought I would have to guess and veganise a normal recipe but this is just brilliant since it will probably work and I have had a few disasters over the years with trying to make Christmas cakes. The fact it will keep for so long is also a real plus since most vegan cakes do not. I shall buy what I do not have and make. In a large saucepan, add the mixed fruits, brandy, orange and lemon zest and juice, Flora and sugar. This is my first attempt at a homemade vegan Christmas cake.