Recipe: Yummy Vegan Hearty Broccoli, Mushroom & Rice Casserole
Vegan Hearty Broccoli, Mushroom & Rice Casserole. Great recipe for Vegan Hearty Broccoli, Mushroom & Rice Casserole. After choosing to eliminate meat & dairy, I experimented with creative, warm hearty, healthy vegan meal options! This casserole spares no flavor and is incredibly healthy and filling.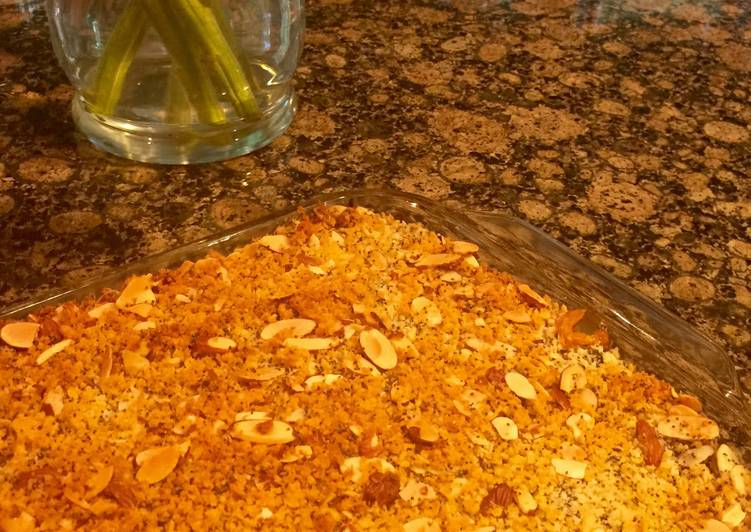 Add all spices and stir until well mixed. In addition to using fresh broccoli, I made two changes: I added one clove of garlic to the onion/mushroom sauté, and I made croutons for the top in place of Ritz crackers. To make the croutons, I bought some good bread from a local bakery, toasted it, buttered it with Miyoko's vegan butter, and then cubed it. You can cook Vegan Hearty Broccoli, Mushroom & Rice Casserole using 21 ingredients and 7 steps. Here is how you cook that.
Ingredients of Vegan Hearty Broccoli, Mushroom & Rice Casserole
Prepare 1 bunch of fresh broccoli peeled and chopped.
It's 1 box of Organic mushrooms sliced.
It's 1 bunch of Organic celery, chopped.
You need 5 clove of Green Onions, chopped.
Prepare 1 small of jar chopped pimentos, + 3 tbs chopped garlic.
It's 2 cup of Long grain brown 20 minute rice.
It's 4 cup of Water as needed (see directions).
It's 1 cup of White wine.
It's of No cheese sauce.
Prepare 1 of Red bell pepper seeded & chopped.
It's 1 medium of sweet white onion, chopped into chunks.
Prepare 1 cup of Nutritional yeast.
It's 1/2 cup of Water.
Prepare 1/4 cup of Cashews.
It's 1 of Salt to season.
Prepare of Topping.
Prepare 3 cup of Crushed cracker crumbs (I prefer rice crackers).
You need 1 oz of Poppy seeds.
Prepare 1 packages of Toasted sea salt sliced almonds.
Prepare 3 tbsp of Olive oil.
Prepare 1 of Salt to taste.
Or if you want something lighter, it is just as good by itself - the crispy filo pastry is heavenly paired with its hearty, rich filling made up of vegan meat and mushrooms. What's more, it's actually lower in fat, processed carbs and calories than a regular meat and mushroom pie. This vegan fajita recipe uses a hearty mix of fajita veggies and spices. Serve in warm tortillas and top with black beans or pinto beans and guacamole.
Vegan Hearty Broccoli, Mushroom & Rice Casserole instructions
Begin with a large deep sauté pan or Dutch oven. Put about 2 tbs of olive oil in pan on medium heat. Sauté green onion, broccoli, celery, mushrooms, garlic & pimento all together for 5 minutes. Add 2 cups water, cover & sauté 5 more minutes. Add wine and rice. Simmer 10 minutes and evaluate moisture level. You want the consistency to be wet to allow rice to absorb when the mixture goes into casserole to bake. Use your judgement to determine if you need to add the remaining water during this 10 minute cook time. Preheat oven to 350°F..
While the casserole mixture is at a low heat simmer, begin your no cheese sauce..
No Cheese Sauce: place the red bell pepper, the sweet onion, the cashews, and the nutritional yeast, salt, & water into a vitamix or other high speed food processor. Mix for approximately 2 minutes at high speed..
Add the No cheese sauce to the casserole mixture. Remove from heat and stir mixture together evenly..
Scoop the casserole mixture into a large glass Pyrex casserole dish..
Prepare Topping: crush enough of your favorite crackers to have 3 heaping cups. I like to toss them into a large ziplock bag and crush to a crumb texture. Pour into a bowl. Add sliced almonds, poppy seeds, and olive oil. Add salt to taste..
Spoon and spread topping over top of casserole. Bake for 30 minutes at 350°F..
Quick, nourishing weeknight meals are a must for any new vegan this Veganuary. This Creamy Broccoli & Mushroom Pasta is the ideal warming dish for a cold winter evening. Sometimes it can be hard to find dinner inspiration. You feel like you're stuck making the same four dishes over and over, and just generally wish you had a few more ideas for quick but delicious meals. Add all ingredients in a high speed blender and process until smooth.