Recipe: Perfect Curry Chicken Broccoli Casserole
Curry Chicken Broccoli Casserole. Now Choose From Multiple Easy & Delicious Recipes To Create That Perfect Meal. A creamy chicken and broccoli casserole with a hint of curry flavor has a topping of melted cheese and crisp corn flake crumbs for a dish even picky kids will enjoy. Use a store-bought roasted chicken to make it easy.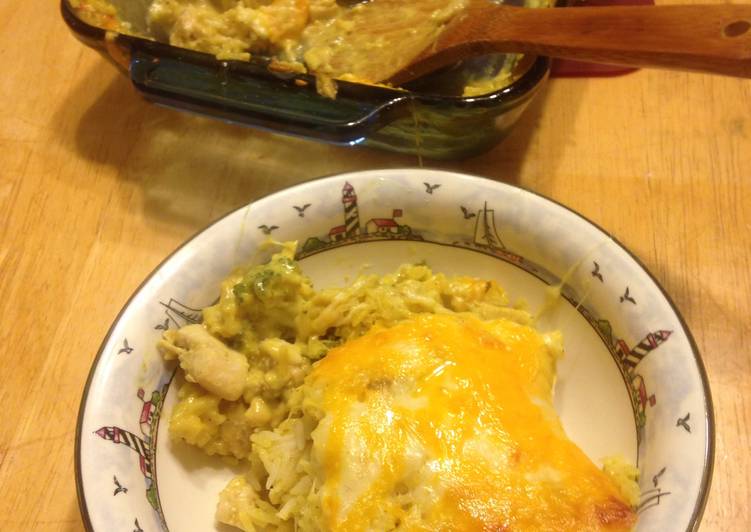 Broccoli Chicken Curry Casserole - a creamy delicious curry dish made with fresh broccoli, chicken, and a crispy cheese topping. This Broccoli Chicken Curry Casserole is an awesome addition to the dinner table! It's super easy to make and is a delicious, family favorite! You can have Curry Chicken Broccoli Casserole using 10 ingredients and 6 steps. Here is how you achieve that.
Ingredients of Curry Chicken Broccoli Casserole
Prepare 2 of Chicken breast.
Prepare 1 can of Cream of mushroom soup.
Prepare 1/2 can of Milk.
Prepare 1 tbsp of Curry.
It's 1 of Salt/pepper.
You need 2 cup of Grated mozzarella cheese.
Prepare 1/2 cup of Grated cheddar cheese.
You need 1 of Minced garlic.
It's 1 cup of Rice.
It's 2 small of heads of broccoli.
This one is easy and delicious! Chicken and broccoli get smothered in a creamy mushroom sauce that has just a touch of curry powder. The whole casserole is topped with Cheddar and breadcrumbs and baked until golden and bubbly. This curry chicken broccoli casserole has bite-sized pieces of chicken and broccoli layered and topped with a creamy, curry flavored sauce with a splash of lemon juice, then topped with extra-sharp cheddar cheese and then garnished with crunchy garlic flavored croutons.
Curry Chicken Broccoli Casserole instructions
Dice chicken breast and cook with salt, pepper, and garlic.
Cook rice IAW directions.
Cut broccoli and put in bottom of 9 x 11 glass pan.
Pour in chicken when cooked. Layer 1 cup mozzarella cheese on top.
Mix milk, soup, rice and curry and layer on top. Then layer the remaining cheese.
Cook for about 30 minutes at 350°F.
Increase skillet heat to medium-high and add broccoli florets. Top with thinly sliced green onions. Cut broccoli into bite size pieces and steam till cooked but slightly firm -- will continue to cook a bit in the oven. In large pot combine soup, mayo, chicken broth, curry powder (use less amount first and add more to your taste). Add a couple dashes of pepper.