How to Prepare Perfect Tiff's Tuna casserole
Tiff's Tuna casserole.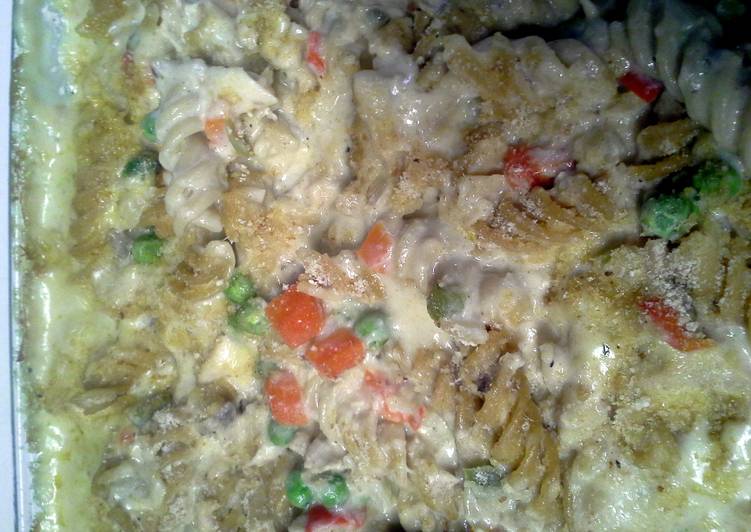 You can cook Tiff's Tuna casserole using 17 ingredients and 8 steps. Here is how you achieve that.
Ingredients of Tiff's Tuna casserole
It's 1/2 of green bell pepper - diced.
Prepare 1/2 of red bell pepper - diced.
You need 1/2 of yellow onion - diced.
Prepare 2 of carrots - diced.
It's 2 of stalks of celery- diced.
It's 2 tbsp of butter.
Prepare 1/3 cup of white cooking wine.
It's 2 of 10 oz. cans of cream of mushroom soup.
It's 1 of soup can full of milk.
It's 3/4 cup of of sour cream.
It's 2 of 12 oz. cans of solid white tuna- undrained.
It's 1/2 bag of of frozen peas.
It's 1 tsp of fresh cracked black pepper.
It's 2 tsp of seasoning salt- I use Johnny's.
You need 1 tsp of garlic powder.
Prepare 1 of 16 oz. bag of rotini noodles- cooked according to directions of pkg.
Prepare 1/2 cup of bread crumbs or crushed ritz crackers.
Tiff's Tuna casserole step by step
Preheat oven to 350°F.
Sauté diced peppers, carrot, onion and celery in 2 Tbls butter until tender..
Add cooking wine and continue cooking for an additional 2 mins..
Remove from heat and set aside..
In a large bowl mix both cans of mushroom soup,milk, sour cream, season salt, garlic powder and pepper. Mix well..
Now add both cans of undrained tuna, frozen peas and sautéd vegetables. Mix well and add cooked rotini noodles..
Add to greased 13x9 baking dish and bake for 40 minutes. Add bread crumbs and bake an additional 5 minutes..
Enjoy!.