Recipe: Appetizing Chicken Ala King Pie
Chicken Ala King Pie. Though its name may sound regal on first read, Chicken à la King is as creamy and comforting as it comes. This hearty classic is practically a crustless chicken pot pie. Some might even call it a chicken gravy.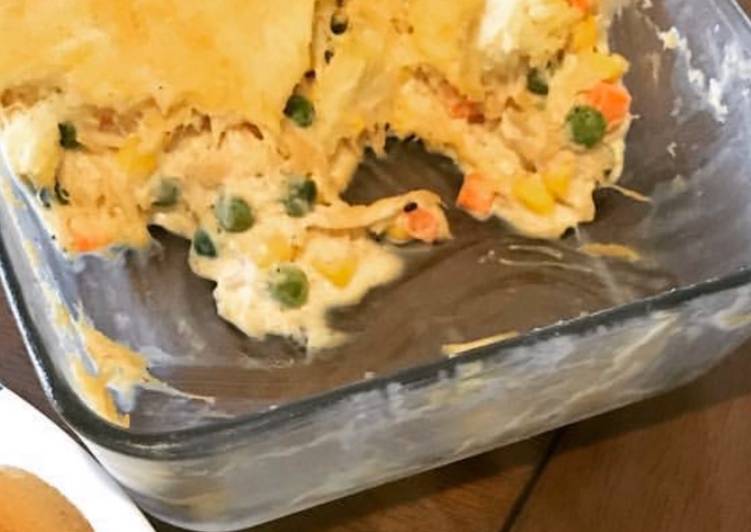 Pour over chicken mixture in casserole. Nutritional Information Per Serving Chicken a la King is one of those dishes that everyone always likes and it's a solution when you don't have time to cook. If you live alone and you're planning on making this recipe for yourself, I assure you this recipe will bail you out more than once so you can eat homemade in no time. You can have Chicken Ala King Pie using 9 ingredients and 7 steps. Here is how you achieve that.
Ingredients of Chicken Ala King Pie
It's 1 cup of shredded cooked chicken breast.
It's 1 of whole onion finely chopped.
Prepare 1 pack of frozen mixed vegetables (carrots, corn and green peas).
It's 1 block of shredded quick melt cheese.
Prepare 1/4 cup of all purpose flour.
Prepare 1/4 cup of all purpose cream.
Prepare 1/4 cup of melted butter.
Prepare 1 1/2 cup of mashed potatoes.
Prepare 1 of large egg beaten.
Potpies are convenient because you can prepare and freeze then until you're ready to bake them. This was probably my favorite meal that my mom made while I was growing up. I love making it for my family. I love it so much that I made it into a pie that we used to sell at Crust Club.
Chicken Ala King Pie step by step
Sauté chopped onion in butter then add shredded chicken breast..
Add frozen vegetables and sauté for another 2 minutes..
Mix all purpose flour and all purpose cream and add to mixture. (You can replace cream with chicken stock if you don't want it too creamy).
Add cheese and turn off the heat when the cheese melts..
Flatten the mixture in a butter greased baking dish..
Top the dish with the mashed potato completely covering the top..
Brush the mashed potato with egg wash and bake under 250 degrees for 10 to 15 mins or until the mashed potato turns golden brown..
This Chicken a la King is pure comfort food. The sauce is mild and creamy, full of chicken and veggies, and served over rice.. In a large skillet over medium heat, melt butter. It's a great way to use leftover chicken or turkey. Green pepper and red pimientos make this a pretty dish to serve at Christmas or anytime.