How to Cook Appetizing Ciabatta Garlic Cheese Melt
Ciabatta Garlic Cheese Melt. Any type of Italian loaf works well in this recipe but I prefer ciabatta rolls as I just love how the butter, garlic and melted cheese pool into the bread's nooks and crannies. For more gooey and better melting, shred your own cheese! Freshly shredded cheese tastes richer, creamier and smoother than the pre-shredded ones in stores which have.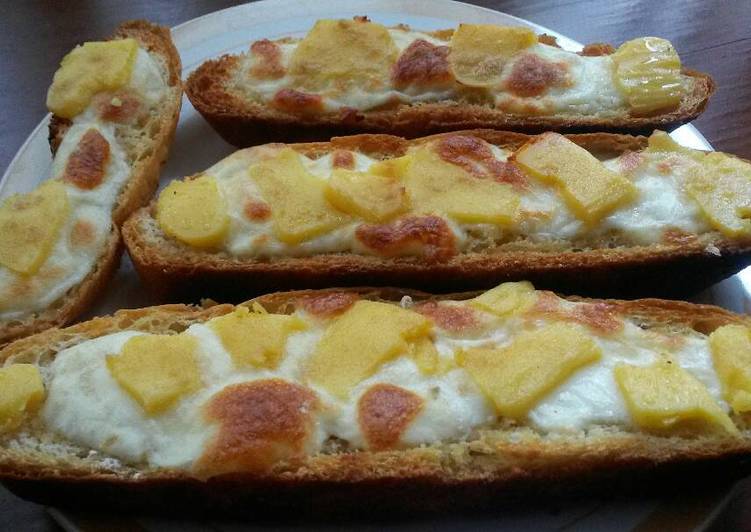 It's packed with butter, garlic and herbs. I have also added parmesan cheese - this gives the finished garlic bread a lovely cheesy-savoury flavour. Butter-soaked bread with garlic, herbs & cheese - right in my comfort food wheelhouse - should be its own food group! You can cook Ciabatta Garlic Cheese Melt using 7 ingredients and 4 steps. Here is how you cook it.
Ingredients of Ciabatta Garlic Cheese Melt
You need of Ciabatta or any crusty bread.
It's of Butter.
You need of Mozzarella Cheese.
You need of Cheddar Cheese.
You need of Parmesan Cheese.
It's of Garlic Powder or Fresh Garlic (minced).
It's of Black Pepper (powder).
This ciabatta makes the most gorgeous golden brown, perfectly buttery and crisp bread for the grilled cheese, and it's simply stunning to see how beautifully the cheddar in the middle melted down (and how it really mellowed out the flavor). It is cheesy and buttery and garlic-y and herb-y and just like heaven dancing on your tastebuds. I cannot get enough of it. How to make the Best Garlic Cheese Bread: Start with a loaf of French or Ciabatta Bread.
Ciabatta Garlic Cheese Melt instructions
Slice the bread into half inch slices and butter one side..
Tear or slice your mozzarella cheese on the bread then season with garlic powder and black pepper..
Add the cheddar and parmesan on top. (you can drizzle the bread with a little olive oil).
Bake or toast until the cheese is melted. You can add chopped chives on top. Bon appetite..
I usually pick up La Brea Bakery French bread from my local Fry's. It is a combination of hearty crusty exterior and soft chewy interior. Melt the butter until completely melted. Add fresh garlic or garlic powder. Cut the ciabatta bread in half lengthwise.