How to Make Appetizing AMAZING FRENCH BREAD! (Super easy!)
AMAZING FRENCH BREAD! (Super easy!). I have an awesome spinach dip recipe and it tastes great with French bread. Luckily the women out here are amazing cooks and my friend had this super yummy and easy recipe for French bread. AMAZING FRENCH BREAD! (Super easy!) step by step.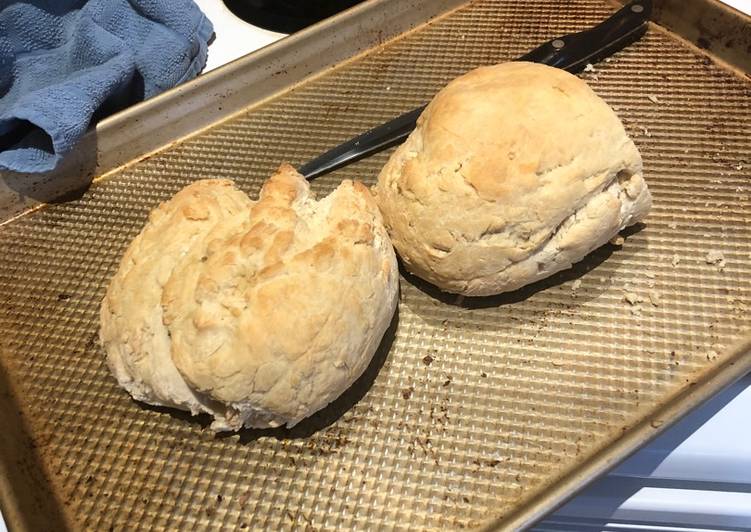 If you have a super sharp razor blade or knife (needs to be extremely thin and sharp so it doesn't deflate the bread), that should do the trick as well. How to easily get crusty golden French bread. The other little variation I've added for this homemade French bread is a nifty bread baking hack that I'm pretty sure one of YOU suggested to me years ago in the comments. You can cook AMAZING FRENCH BREAD! (Super easy!) using 6 ingredients and 6 steps. Here is how you achieve that.
Ingredients of AMAZING FRENCH BREAD! (Super easy!)
It's 1 tablespoon of dry instant yeast.
Prepare 1 tablespoon of sugar.
It's 1 tablespoon of salt.
Prepare 2 1/2 cups of warm water.
Prepare 5-6 cup of white flour.
It's of Flour (for dusting).
This quick and easy french bread is one you can make later in the day, because you don't need a whole lot of time for the dough to rise. If you want whole wheat french bread, you can make this with whole wheat flour. If you want white french bread, use regular all-purpose flour. Once you try making this easy homemade french bread yourself, you will never want to go back to those lackluster loaves again.
AMAZING FRENCH BREAD! (Super easy!) instructions
In a bowl, add together the yeast, salt, sugar, and water.
Add the flour and stir with hands until mixed (it might be dry) (DONT add more water).
Knead the dough on a clean, floured counter for 6 minutes (until smooth).
Let sit (covered) in a warm area for 2 hours (to rise).
Bake at 400 degrees for 30-40 minutes (mine was done at 17).
Enjoy!.
This french bread recipe makes two amazing loaves of fresh bread with a golden chewy, cripsy crust and soft, fluffy insides. It really is the best french bread recipe ever! Brush the loaves with melted butter if you'd like. In a mixing bowl add sugar and water. Stir to dissolve sugar and sprinkle with yeast.