Recipe: Yummy Broccoli, Ground Turkey and Rice Casserole
Broccoli, Ground Turkey and Rice Casserole. Brown rice will take longer to cook and may require more liquid. Short grain yields a creamier rice, so long grain is recommended. Give quick-cooking rice a try if you want to speed it up even more!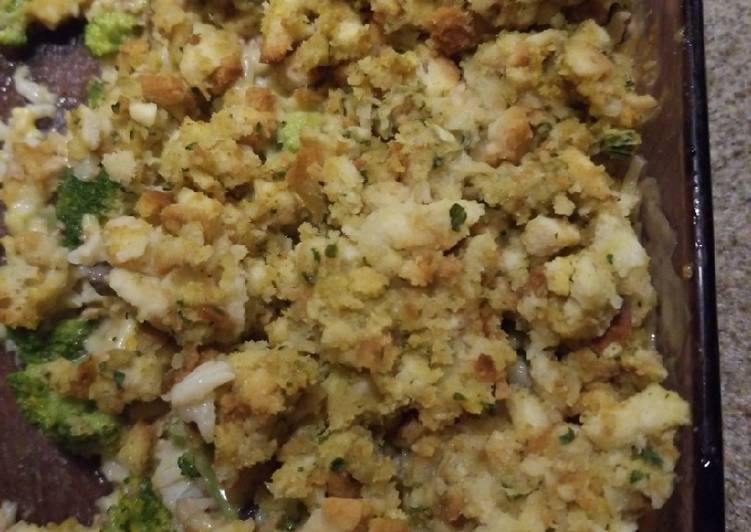 We have been trying to eat healthier so this would be a perfect dish for us. I haven't used ground turkey in a dish for a while so this will be something new. This easy Broccoli Rice Casserole uses simple pantry ingredients to turn leftover turkey into a quick and easy meal that the whole family will love! You can have Broccoli, Ground Turkey and Rice Casserole using 7 ingredients and 6 steps. Here is how you achieve it.
Ingredients of Broccoli, Ground Turkey and Rice Casserole
Prepare 1 lb of cooked ground Turkey with 1/2 onion chopped.
Prepare 1 bag of frozen broccoli (microwaved 3 minutes).
Prepare 2 cups of cooked rice (I used white jasmine microwaved in bag).
It's 1 can of cream of chicken.
Prepare 1 can of cream of broccoli.
You need 1 cup of shredded cheese.
It's 1 box of stove top.
This comforting casserole features perfectly cooked rice, tender broccoli and juicy turkey in a creamy cheesy sauce all topped off with a buttery cheesy topping. Freeze option: Sprinkle cheese and French-fried onions over unbaked casserole. When we think of all the possible ways to use leftover turkey, we naturally think of a casserole, and this is one of our favorites, for sure. After that I added one can cream of chicken soup to a small mixing bowl along with half the can filled with chicken broth and the other half filled with heavy cream.
Broccoli, Ground Turkey and Rice Casserole instructions
Preheat oven to 375.
Mix turkey, rice, brocolli, cream of mushroom, cream of chicken and cheese in 9 x 9 baking dish..
Place dish in oven for 20 minutes.
Prepare stove top per box instructions.
Remove dish and add stove top to top of dish. Bake and additional 5-7 minutes..
Remove and let cool slightly and serve..
This Creamy Turkey Rice Casserole is real food meets comfort food. Made from scratch without MSG, prepackaged sauces, or cream of anything soups, this dish is quick and easy and uses up that pesky leftover Turkey and maybe even some vegetables if you still have them laying around. This easy turkey rice casserole starts off by browning the turkey mince first. No additional oil is needed for this as the heat from the pan will dry fry the turkey mince and release those delicious turkey juices. We can then also use those wonderful juices to sauté the onion, garlic and green pepper in.